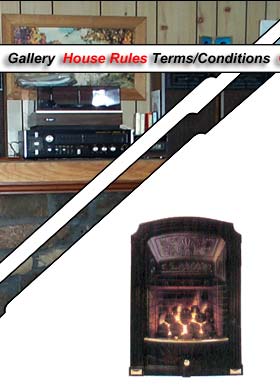 Cottage Information
Year Round Home, private lot with 300' water frontage, Sandy Beach, 4 bedrooms, 1 (4) pc bathroom, sun porch, large windowed porch facing the water, full kitchen and living room.
Maximum Overnight Occupancy: 8 persons (children are considered people)
Only those people who's names appear on the rental agreement are allowed to stay at the cottage. If you exceed this number you will be asked to leave the cottage.
Drinking Water Source: Well Water, We do not guarantee the water quality and advise that you purchase all drinking water
Bedrooms:
Master Bedroom (main floor)- 1 Queen Bed
Bedroom 1 (main floor)- 1 Queen Bed
Bedroom 2 (upstairs) - 1 Double Bed
Bedroom 3 (upstairs)- 2 Single Beds
Sleep Cabin: - available at extra cost, includes two rooms (bedroom and kitchenette), no running water.
Bathroom: Tub, Toilet, Shower & Sink
Cottage Phone:
Cell service is available in this area.
Smoking: Outside Only, butts to be containerized and disposed of safely.
Winterized:
Fully winterized heating, hot/cold water, ploughed road access this is a year round home.



Welcome!!
The property owners would like to take this opportunity to welcome you to the cottage and extend our best wishes for an enjoyable vacation. In order to make your stay more pleasant, the following pages include valuable information regarding the cottage itself, instructions how to enter the cottage, on the operation of the equipment, garbage disposal and some general notes on how to find cleaning supplies and that sort of thing. Also included in the House Rules are general notes on the cottage community that you might find useful.
Location:
Sheltered Cove of Black Fish Bay - off Kaminiskeg Lake on the Madawaska River Waterway System, gradual slope of water level.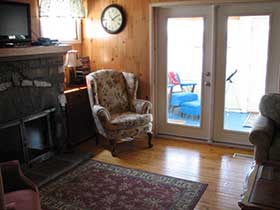 Location of fuse box/electrical panels:
Basement
Fireplace:
Please do not use artificial logs or anything other than regular firewood. Do not overload fireplace. Assure that the fireplace flue is open prior to lighting a fire and that the fireplace screen/doors are in place while fire is burning. Do not cut down trees on the property for firewood. Firewood is your responsibility. Do not cut/split wood on the fireplace hearth or anywhere inside the cottage. Firewood is for Sale at the Cottage.
Facilities provided: Pillows, Blankets, Refrigerator/Freezer, Stove, Oven, Microwave, Coin Operated Washer, Dryer, Kettle, Tea Pot, Dishes, Cutlery, Pots and Pans, Toaster, Coffee Maker (auto/drip type) & Keurig, Cleaning Supplies, Vacuum, Television (Shaw Direct Satelite), DVD, Radio, Ceiling Fan, Fireplace, Fire Pit, Patio Furniture, Propane Barbecue (must be left full), Screened in Porch, Deck overlooking the water, Dock, Canoe and Paddle Boat.
Facilities not provided: * Bed Linens, Towels, Tea Towels, Dish Cloths, * (the previous items can be provided for renters outside Ontario - some conditions apply) Flashlight, Firewood can be purchased at the cottage.
* These items are in the cottage, but if used must be washed, dried and put away.
House Rules:
The House Rules are a further addition to the terms and conditions of rental outlined on your Cottage Booking Agreement. Please review both documents carefully and assure that all members of your party are familiar with the contents, particularly the conditions of rental and cleanliness guidelines. Just as you appreciated the clean and well maintained state in which you found the cottage, we ask that you leave the cottage clean and tidy for the next guests.
Entertaining guests is very much part of cottage life: however the maximum number of persons determined for the cottage is based on the capacity of the septic system, the number of beds, and the property owner's wishes. Remember that the cottage is occupied on an ongoing basis throughout the summer by the clients and the owner's family and friends in addition to your party. Please do not exceed the maximum number of persons allowed with regard to guests. Your thoughtful consideration of your cottage neighbours' need for quiet and privacy will be appreciated.
Emergency Contacts:
If there is an emergency at the cottage, or you run into a problem related to the running of equipment etc., please contact the property owner (number provided on rental acceptance and inside cottage).
Fire-Ambulance-Police Call 911 and quote Fire Number (number provided on rental acceptance and inside cottage).
Emergency Veterinary: 613-756-1984
Power/Heat Source:
The cottage is located in a rural area and the electrical power may be interrupted from time to time, and it may stay off a little longer than it would in the city. We suggest you bring a few flashlights for emergencies. Also, if the power does go out, remember that the water system operates on an electric pump. DO NOT RUN THE WATER WHEN THE ELECTRICITY IS OFF. You may empty the water lines and need to prime the pump if this happens.
Outdoor Fires:
Recreation "campfires" are only allowed in the established permanent fire pit area at the beach. Before lighting any fire out of doors, check with the local Municipal Office at 705-756-2747 or www.madawaskavalley.ca.
Waste Disposal:
Never leave garbage outside the cottage. Country critters (raccoons, bears, skunks…) love garbage. Unless you wish to be visited by these friendly and hungry animals, please follow these garbage disposal instructions:
Clear Garbage Bags are sold at local store, these must be used when taking the garbage to the landfill located on the Old Barry's Bay Road, if these bags are not used the landfill will charge a fee. You also need to purchase a tag from them.
$30.00 Disposal charge shall be levied for any garbage left on the property.
Bathrooms and Septic Systems:
Like most cottages this cottage operates on a septic system. The septic system is a very sensitive, and integral, part of cottage life. The basic rule is do not put anything down the toilet other than natural waste and toilet paper (and be conservative with the paper). Use one ply paper whenever possible. No paper towels, kleenex, tampons, pads, matches, condoms, hair, grease, strong chemicals, etc. These are guaranteed to back up the system and believe me, you do not want that to happen. Also, it is easier on the system if you flush only when absolutely necessary.
If the power goes out for a period of time, if you need to flush the toilet more than once, fill the tank up with water from the lake.
The septic bed (identified outdoors as the large flat/level open section of the cottage lot) can be easily damaged by excessive weight. Do not drive over or park any vehicles in the area. Septic systems have a maximum capacity with regard to use (ie. Number of persons, washrooms, laundry, etc.) Please observe the maximum number of persons determined for this cottage and indicated on your rental agreement.
Barbecue:
A Propane Barbecue is provided, we would ask that you fill the propane tank at end of your stay or you can bring your own. Please do not burn any foreign materials (eg. Wood) in the barbecue. Barbecue grill should be cleaned/brushed after each use. Make sure that when lighting the barbecue that you have the lid open and the match or lighter burning already before you turn on the propane on the barbecue. After each use, turn off both the barbecue "On/Off" valve and the cylinder or tank valve.
The Nearest source of propane is Barry's Bay.
Television/DVD/VCR:
The cottage is equipped with a Colour Television, Shaw Direct Satelitte, DVD.
Community Notes:
Cottage communities have become very interdependent. Everyone knows everyone else and keeps an eye of their property for them. Don't be surprised if someone asks who you are. Explain that you are guests of the owners. Your due consideration of the owner's place in that community will be appreciated - no loud parties or noise after 10:00 pm., and observe normal boating and water guidelines, etc.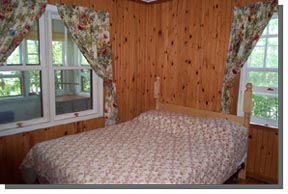 Use of Owner Food Supplies:
Since the owners use the cottage themselves, they may leave some food supplies or staples at the cottage. You are welcome to use these if you need to, but we ask that you replace any supplies that become depleted during your stay.
Pets:
All pets at the cottage must be pre approved and recorded on the rental contract. Please keep your pet on a a leash or near you at all times. Remember that sound carries over water, do not allow your pet to disturb the neighbour's. Pets are not allowed on the furniture or beds.
All dog poop must be scooped and disposed of from the cottage lawn, beach and driveway area. Failure to do so will result in a $30.00 clean up fee. We take this matter very seriously.
All pets must be up to date with vaccinations.
Check In Time:
Check in time is 2:00 pm
Check Out Time:
Your adherence to the check out time of 10:30 a.m. will be appreciated in order to allow time for cottage maintenance and preparation for the next cottage quests.
Notes on Insects, Local Wildlife:
Insects and mice are very much part of cottage country. To discourage these pests endeavour to keep exterior screen doors closed at all times.
Cleaning:
Thank you for your thoughtfulness and consideration in leaving the cottage (inside and out) thoroughly clean and tidy, as it was for your arrival. Cleaning equipment and supplies normally used, have been provided to make your task as easy as possible. If you deplete any of these supplies, please replace them for the next guest.
Below is a housekeeping check list we would ask you to utilize prior to your departure at the end of your stay. (Please note that it is required that the cottage be left thoroughly clean and tidy. If the property requires additional cleaning following your departure, appropriate deductions will be made from your Security/Damage Deposit). Along with a $50.00 administration fee.
Inside Cottage
¤ Sweep and damp mop all hard floor surfaces and vacuum all carpeted surfaces
¤ Dust throughout
¤ Wipe off all table/counter tops and all kitchen appliances
¤ If anything was spilled in the oven, please clean
¤ Empty fridge/freezer and wipe out
¤ Clean microwave
¤ Empty and dispose of all garbage
¤ Check the coffee maker - remove grounds
¤ Clean tub, toilet, sink, mirror etc. in bathroom
¤ Fireplace - make sure fire is out, flue is closed and ashes cleaned up and disposed as per any instructions left by owner
¤ Clean finger prints/smudges from sliding glass doors, windows, etc.
Outside Areas:
¤ Make sure patio furniture are properly stored
¤ Check for an dispose of any cigarette butts, garbage, dog leavings etc.
¤ Make sure barbecue grill is cleaned off, and that your barbecue tank has been removed.
¤ Return any recreational equipment that was used to the proper storage area.
General:
¤ Check all windows, make sure they are closed and locked.
¤ Check all doors and make sure they are locked.
¤ Make sure all garbage has been removed
¤ Do not leave behind beer cases or pop empties
¤ Check for personal belongings indoors and out (all rooms, drawers, under beds, waterfront, etc.)
Accidents at Cottage:
We understand that accidents can happen at the cottage during your rental. If something breaks DON'T PANIC. Please call the owner and inform us of the accident. This will allow us time to make arrangements to have the broken item fixed or replaced.